Department of Mechanical Engineering
Mechanical engineering is a diverse subject that derives its area from the need to design and manufacture everything from small individual parts and devices (e.g. inkjet printer nozzles) to large systems (e.g., spacecraft and machine tools). The role of a mechanical engineer is to take a product from an idea to the marketplace. In order to accomplish this, a broad range of skills are needed. The mechanical engineer needs to acquire particular skills and knowledge. He/she needs to understand the forces and the thermal environment that a product, its parts, or its subsystems will encounter to design them for functionality, aesthetics, and the ability to withstand the forces and the thermal environment they will be subjected to and to determine the best way to manufacture them and ensure they will operate without failure.
Mechanical engineers play a central role in such industries as Automotive (from the car chassis to its every subsystem—engine, transmission, sensors); Aerospace (airplanes, aircraft engines, control systems for airplanes and spacecraft), Energy conversion (gas turbines, wind turbines, solar energy, fuel cells); Environmental control (HVAC, air-conditioning, refrigeration, compressors); Automation (robots, data and image acquisition, recognition, control); Manufacturing (machining, machine tools, prototyping, microfabrication).
Facts that make us Unique
Vision: The Mechanical Engineering Department endeavors to be recognized for outstanding education and research leading to well qualified engineers, who are innovative, entrepreneurial and successful in advanced fields of mechanical engineering to cater the ever changing industrial demands and social needs.
Our First Mission
To imparting highest quality education to the students to build their capacity and enhancing their skills to make them globally competitive mechanical engineers.
Our Second Mission
To develop alliances with Training organizations, educational institutions, industry and alumni for excellence in teaching, research and consultancy practices.
Our Third Mission
To provide the students with academic environment of excellence, leadership, ethical guidelines and lifelong learning needed for a long productive career.
Head of Department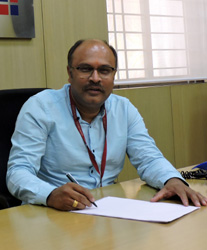 | | |
| --- | --- |
| Name | Prof. Ashish Muchrikar |
| Qualification | M.Tech (Thermal Engg.) PhD* (Pursuing) |
| Experience | 16 Years |
| Publications | 1 National & 6 International Journals |
| Expertise | Thermal, Non conventional Energy |
Recent Highlights
TTP on "Python & MATLAB for Research in Mechanical Engineering"
Organized By Dept. of Mechanical Engg., CIST
10 Feb, 2020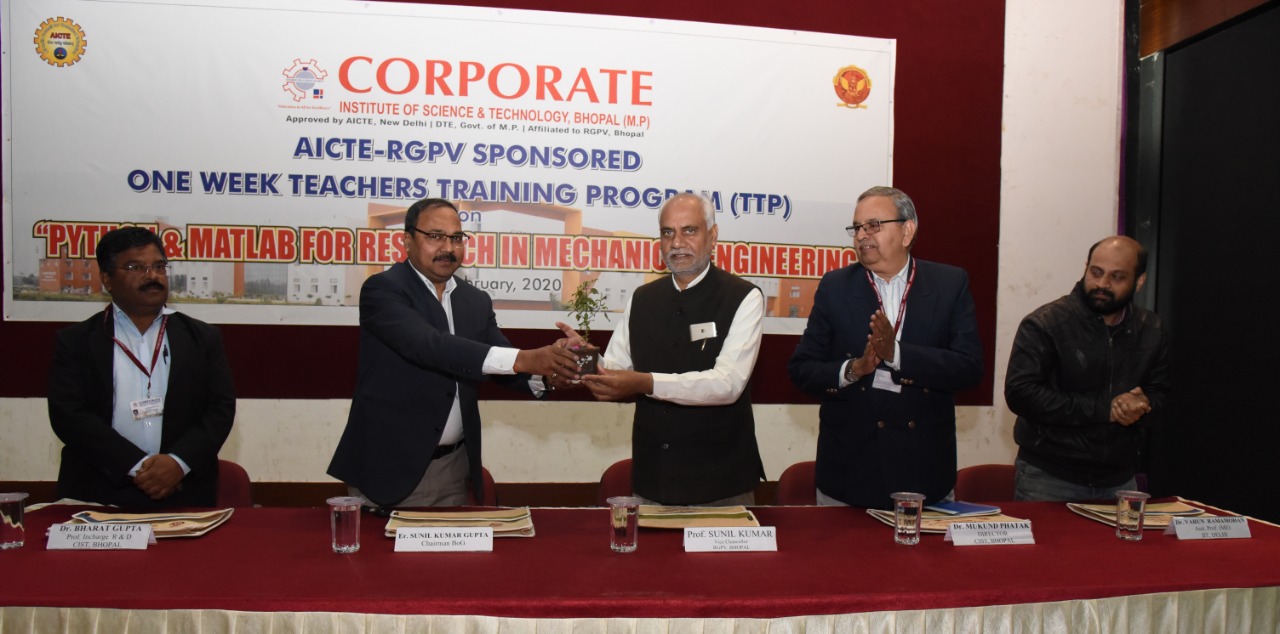 Department of ME conducted a one week teachers training program on "Python & MATLAB for Research in Mechanical Engineering" sponsored by AICTE - RGPV. Inaugural Ceremony organized in presence of Chief Guest Prof. Sunil Kumar, Vice Chancellor, RGPV Bhopal, Keynote Speaker Dr. Varun Rammohan, Asst. Prof, ME, IIT, Delhi on 10th Feb, 2020. For more images Click Here
State Level Tournament: 2019
Congratulations to Alfaz, student of ME branch, 7th Semester, Corporate Institute of Science & Technology, Bhopal for winning RGPV State Level Championship 2019: Handball.
Laboratory Facilities:
The department is furnished with various labs: Internal Combustion Engg. Lab, Thermodynamics Lab, Heat & Mass Transfer Lab Refrigeration and Air Conditioning Lab, Strength of Materials Lab, Theory of Machine Lab, Dynamics Of Machine lab, Computer Aided Design Lab, Mechanical Vibration Lab, Mechanical Measurement lab, Metal Cutting Lab, Fluid Mechanics, Fitting Shop, Carpentry Shop, Black Smithy Shop, Welding Shop, Foundry Shop.