Department of Basic Science
The Department of Basic Science started right from the inception of the college. This department lays the foundation of engineering students. Conceptual Knowledge with related practical in Basic Science forms the base of Engineering. This Department is devoted to foster the fundamental principles and understanding of science to enhance the students' basic knowledge of Engineering. Its objective is to provide value-based education to the budding scientists and engineers. The Department comprises of different subjects like Mathematics, Physics, Chemistry, and English. Our core strength is the dedicated and highly qualified and experienced faculty of the department, who make consistent efforts to improve the teaching learning process. Besides academics, the Department is actively involved in the development of students' personality, communication and soft skills to prepare them to step into the modern and globally competitive environment. The department has state-of-the-art laboratories and advanced department library facilities. The students are motivated to participate in Science exhibitions and projects to foster technical knowledge. It also encourages students to participate in NSS and Social and awareness programs like Blood Donation, charity and environmental awareness programs. The Dept provides opportunities for the students to join various events like study trip, tech fest etc. in addition to other extracurricular activities like Quiz, Workshop etc.
Facts that make us Unique
Vision: To provide dynamic, innovative and interdisciplinary quality education that fosters practical learning and applied research in different disciplines of Engineering.
Our First Mission
To build scientific temperament by providing solid educational foundation to the graduates incorporating the basics of Physics, Mathematics, Chemistry, English and other liberal studies.
Our Second Mission
To provide an ambiance that promotes the applications of fundamental principles of applied sciences to benefit the society.
Our Third Mission
To provide education and opportunity for students with diverse abilities to enhance their personal and professional growth.
Our Fourth Mission
To attain academic excellence and keep abreast of scientific developments that enables the students to achieve their full potential.
Head of Department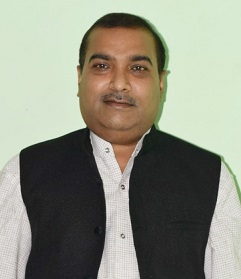 Name
Dr. Akhilesh Jain
Qualification
P. hD. ( Mathematics), Barkatullah university, Bhopal
Experience
20 Years
Publications
16 papers published in National / International/ UGC Approved Jounrals, 5 Papers presented in national / International Conferences and 6 FDP Attended
Expertise
Functional Analysis
Book Publications:

"Engineering Mathematics–I" for RGPV I semester students from Variety Publication, New Delhi.
"Advanced Discrete Mathematics'' for M.Sc. Students (UGC, Unified Syllabus). from Golden Valley Publication, Agra.
"Integral equation with boundary value problems" for M.Sc. (UGC ,Unified Syllabus), from Golden Valley Publication, Agra.
"Discrete Structure" for RGPV III semester students from Variety Publication, New Delhi
"Discrete Mathematics" for Barkatullah university B. Sc. V semester students , From Ram prashad and Son's Publication , Bhopal (English and Hindi Edition ).
Laboratory Facilities:
A four year Bachelor of Engineering course is offered in different branches- ME, CE, CS, EC, EX. Accordingly, the laboratories have the following purposes and goals:
To provide an experimental foundation for the theoretical concepts introduced in the lectures. It is important that students have an opportunity to verify some of the ideas for themselves.
To familiarize students with experimental apparatus, the scientific method, and methods of data analysis so that they will have some idea of the inductive process by which the ideas were originated. To teach how to make careful experimental observations and how to think about and draw conclusions from such data.
To introduce the methods used for estimating and dealing with experimental uncertainties, including simple ideas in probability theory and the distinctions between random (statistical) and systematic "errors."
To learn how to write a technical report which communicates scientific information in a clear and concise manner?
To introduce new concepts and techniques which have a wide application in experimental science, but have not been introduced in the standard courses.