DEPARTMENT OF MANAGEMENT (MBA)
Corporate Institute of Science & Technology is a premier institution for the Management Course in M.P. which is affiliated to Barkatullah University Bhopal MP & run full time MBA Course and General Management, focused on promoting quality education & was established in 2022.
The objective of the college is to enhance and develop competent and concurrent managers, who have knowledge of multiple disciplines, sharpened in developing general as well as specialized outlook and capability to work in domains of highly competitive world. To boost up MBA students, Strategic Curriculum has been opted which has a blend of Case based practical in each subject with combination of Theories and Numericals. All specialized & subjects of province are being tutored, like-Finance, Marketing, Human Resource Management, Retail Management, Banking, General Management. CIST offers 180 Seats in MBA Full time and 120 Seats in MBA (General Management) Course, having specialization in branches of Finance, Marketing, Human Resource Management, Retail Management, Banking, and General Management. Corporate Institute of Science & Technology has endorsed latest State of the Art Pedagogies in Training and teaching its students ranging from class room studies to outbound solutions like Industry visits, Educational tours, Conferences, Seminars, Workshops etc. The MBA Department is equipped with advanced Infrastructure, Computer Lab, library, providing latest e-services, classrooms and Seminar hall with LCD Projectors, Audio-Visual (Multimedia) hall with videoconferencing facilities.
Head of Department (MBA)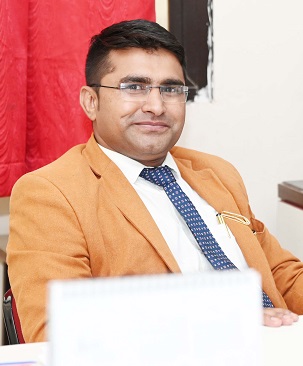 Name
Dr. Satish Mewada
Qualification
Ph.D. MBA, M.com, B.com, B.ed, PGDCA
Experience
11 Years
Publications
15 papers published in National / International / UGC Approved Journals
FDP and Workshop
15 FDP and Workshop Attended
Member
BOS Member at Private University
Seminars
9 Seminars and Webinars Attended
HOD Message:
Corporate Institute of Science & Technology is the name that inspires awe and respect in the field of technical and management education. With the advent of globalization, Govt policies and outsourcing market, tremendous growth is visible for skilled and qualified professionals. Our strong emphasis on quality education, effective teaching pedagogies and real industries interface will constantly propel the institute to achieve better heights and place the young professionals.
Our state of art infrastructure i.e. well equipped classrooms with latest teaching aids computer labs , air-cooled auditorium/ conference hall , seminar hall, lecture theatres, open amphitheatre, transport facility, canteen and mess facility, gym facility, separate boys and girls hostel, lush green lawn , placement and entrepreneur development cell provide an arena to nurture and grow young professionals. Our experienced and dedicated faculties support and guidance develop young professional to meet the industry and corporate wants.
We welcome all aspirants to join Corporate Institute of Science & Technology for better future prospects.
Dr. Satish Mewada (Associate Professor)
Ph.D. MBA, M.com, B.com, B.ed, PGDCA