Director's Profile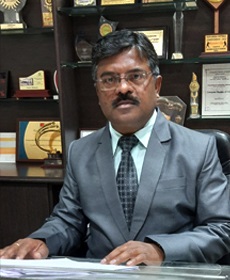 Dr. Bharat Kishore Gupta
Name
Dr. Bharat Kishore Gupta
Awards

"National award for commercializable patents" from TIFAC, Department of Science and Technology, Government of India.

Qualification

Ph.D. (Mechanical Engineering), from Maulana Azad National Institute of Technology, Bhopal in 2015.
M. Tech. (Industrial Design) from Maulana Azad National Institute of Technology, Bhopal in 1999.
AMIE from The Institution of Engineers (India) in 1994.
Diploma (Mechanical Engineering) from Govt. Polytechnic, Jabalpur in 1989.

Experience

17 Years Teaching (Theory of Machines, Machine Design, IC Engines, Production Technology, Basic Mechanical Engineering).
13 Years Industrial (Design, Production Planning & Control, Corporate Quality).

Patents

An Automatic Energy Monitoring System.
Slanted Overhead Water Tank with Bypass Delivery
AI Driven Cloud Hospital

Publications

Mote than 15 publications in International journals.
Director's Message
Having a glorious past of about 15 years and has been a foremost institution in Technical Education in the central India region, this institute is recognized as a temple of learning and has contributed to nation building through its pass out students having talent, analytical abilities, and managerial skills. These students have brought many laurels not only to this institute but to Madhya Pradesh and Bhopal in particular.
Our students have a strong presence almost in all sectors viz. government, private, and public sectors and our competent faculty and state of art infrastructure help them in their overall development to meet challenges even at global level and come out creating hall mark in different fields.
It is my strong conviction that the students of this great temple of learning will keep on adding new feathers to their cap and making us proud of them.
I extend a warm invitation to all recruiters looking for future ready engineers to visit our serene campus and collaborate with us for various industry programs like guest lecture, mentorship, joint R&D projects and any other special requirements that is put forth will be complied by us with best regards and appreciation.