Director's Profile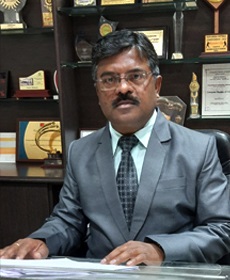 Dr. Bharat Kishore Gupta
Name
Dr. Bharat Kishore Gupta
Awards

"National award for commercializable patents" from TIFAC, Department of Science and Technology, Government of India.

Qualification

Ph.D. (Mechanical Engineering), from Maulana Azad National Institute of Technology, Bhopal in 2015.
M. Tech. (Industrial Design) from Maulana Azad National Institute of Technology, Bhopal in 1999.
AMIE from The Institution of Engineers (India) in 1994.
Diploma (Mechanical Engineering) from Govt. Polytechnic, Jabalpur in 1989.

Experience

17 Years Teaching (Theory of Machines, Machine Design, IC Engines, Production Technology, Basic Mechanical Engineering).
13 Years Industrial (Design, Production Planning & Control, Corporate Quality).

Patents

An Automatic Energy Monitoring System.
Slanted Overhead Water Tank with Bypass Delivery
AI Driven Cloud Hospital

Publications

Mote than 15 publications in International journals.
Director's Message
India is a country of 1.25 billion people. Hi Tech is not a luxury but a necessity for the people of our country in order to manage and control different aspects in every walk of life for the rich as well as the poor. India needs massive technical manpower as per the statistics of job requirement even for this year. Keeping in view this growing need for technical professionals, the Govt. of India had given green signal a decade ago to open private engineering institutes in different parts of the country. As a result, our country today has more than 4000 engineering colleges churning more than one lac graduate engineers every year. However, many of these engineering and technology institutes have not come to the expectation of potential employers over the years either in Information Technology or in manufacturing/processing industry. This is primarily because of lack of qualified teachers and the presence of licensing based rules and regulations imposed by Govt. agencies on private institutions. Therefore, there is a dire need to change the overall culture of technical education in India from the government side as well as from the end of management of private institutes. The Govt. agencies should generate an atmosphere where there is an output based control along with mechanism of inculcating free, flexible and natural growth oriented environment for private technical institutions with or without financial aid. Moreover, self sponsored management of technical Institutes should focus on the development of healthy academic environment, which should strengthen an institute within itself by attracting quality oriented teachers aiming towards providing knowledge skill and research input to their UG/PG students.
The above theme was a dream cherished by a group of professional technocrats and came into reality 10 years ago by opening an Institute named as Corporate Institute of Science & Technology, Bhopal in 2008 with the mission of achieving excellence in the field of engineering under the Essarjee Education Society as a Premier Professional Engineering Institute at Bhopal, Madhya Pradesh to achieve new milestones and set higher benchmarks every year resulting in carving out a niche and developing a distinctive identity ourselves. The focus is on equipping our students with the necessary skills in competitive intelligence, corporate welfare and soft skills. In 2011, an Institute named as Corporate Institute of Research & Technology has also started in the same campus primarily for creating a research oriented technical education Combating the inequalities in the accessibility of education, Shri.G.C. Shah the founder Chairman, who believes that education has phenomenal powers to bring about substantial benefits to individuals and the society, laid the foundation for the emergence of Essarjee Education Society and the Corporate group of institutions under its umbrage. The underlying commitment of the trust is the true spirit that promotes education amongst all strata of the society with a view to dispel ignorance, eradicate illiteracy and equip the youth with knowledge and training that will improve their employability and pave way for their gainful employment eventually leading to the development of the society as a whole.
The maestro, who is behind all these magical efforts, is Er. Sunil K. Gupta, an excellent entrepreneur by profession in the field of Civil Engineering. He is a visionary leader who enjoys creating an environment, which motivates and inspires all the faculty members & staff to perform and aspiring students to excel. He is the sterling example of an educational entrepreneur whose endless efforts climb the hierarchy of success through arduous toil and dedication. In every endeavor of his, he has left the indelible imprint of his vision of educational equality and inclusiveness.
The philosophy of Corporate Group of Institutes is basically focused on nurturing of young students under the leadership of a versatile academic administrator, who is adroit team players with good interpersonal skills, who recognizes the positive aspects amongst all the staff and students and ignores their negatives and expresses appreciation for every successful job that they do. The Management is successful to engage committed academician on its top position who has a passion for teaching and a flair for research and publication.
The Group has a rich tradition of scoring high with academic excellence and overall personal growth of students. This is achieved by providing excellent academic ambience and infrastructure with the help of dedicated, highly qualified and experienced faculty members having M.Tech and Ph.D.
While we feel proud of ourselves for our performance towards obtaining the mark achievements, we are not contented. Our vision is to emerge as a top-ranking engineering college in the central zone of our country. Our aim is to achieve global reorganization as a leading player in the field of technical education. We the stake holders, students, staff and management of Corporate Group of Institutes, believe that the best way to survive change is to initiate it. And it is with this belief that we have continually engaged over the years in a relentless endeavor to improve upon the past performance and enhance the position of the Institute in the league of the best technological institutions in the country to provide undergraduate/post graduate education in the field of Mechanical, Civil, Electronics, Electrical & Computer Science Engineering with current annual student intake of 360.